Plum District
This user hasn't shared any biographical information
March 21st, 2011 | 9:33 AM
Aileen Lee, Partner at Kleiner Perkins Caufield & Byers and Plum District Board Member, wrote an outstanding guest post this past weekend on TechCrunch entitled "Why Women Rule the Internet." Aileen focuses on investing in early stage consumer Internet companies (like Plum District), and in this post she shares a wealth of insight and knowledge about rising trends on the Internet. Most importantly, she discusses why "girl power" is fueling the unprecedented growth of today's social Web.
Read her excellent post and get to know another member of Plum District.
March 10th, 2011 | 4:31 PM
It still looks like some of you are experiencing problems with referral emails not being delivered to your friends. While we are continuing to work with Internet Service Providers to get these emails delivered, we have a workaround for you in the meantime.
We have discontinued sending referral emails from our mail server (which in some cases is being blocked). Instead, we have enabled a way for you to put your unique referral links directly into your own emails, which should not be blocked.
Here's what to do:
1. Return to the Target deal page:
http://www.plumdistrict.com/moms/discount/everywhere/home-and-garden-deals/target-plum-reward-20-target-giftcard-mar2011-everywhere
2. Click "Get It" and re-confirm your mailing address in Step 1.
3. This time on Step 2, your unique referral link appears in the box labeled "For Copying and Pasting." Copy your unique referral URL (and the explanatory text, if you want).
4. Create an email in your personal email service/program and paste the URL (and the other text if you copied that too). Now you can invite your friends directly through your unique link without having to rely on our mail servers to get stuff delivered.
March 10th, 2011 | 9:54 AM
Due to the overwhelming response to our Target Plum Reward, we are experience some intermittent site issues as we bring new servers online to handle the volume. Please bear with us, and we apologize for any inconvenience that this may be causing you. We'll be sailing smoothly again in a few minutes.
February 7th, 2011 | 11:39 AM
Welcome the first Plum babies!  Ben (7lbs 1oz) and Audrey (6lbs 4oz) were born Monday, January 24, 2011 to Carrie Barley from our Chicago sales team. Carrie reports that she and babies are doing well, and that she's loving every minute of it! Congratulations, Carrie!
January 13th, 2011 | 10:27 AM
In honor of Martin Luther King Day, first-time buyers can get an additional 25% off your purchase now through January 17. Just enter promo code plumMLK at checkout! Tell all of your friends!
January 6th, 2011 | 7:00 AM
Plum District is thrilled to be named an Editor's Best for 2010 by Cool Mom Picks. On December 30, Cool Mom Picks announced their "coolest services, sanity savers, and helpful websites for parents." Here's what they had to say about Plum District:
"I anxiously await the daily deals from Plum District, a handy new site aimed at moms like me that makes saving money super easy. So far the deals have been relevant and appealing, including plenty of the small businesses you've seen on Cool Mom Picks." -Kristen
Thank you to Cool Mom Picks!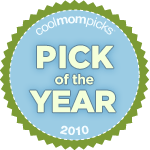 January 5th, 2011 | 1:29 PM
As you probably know, we ran a "deal" with Big Brothers Big Sisters from December 25 thru December 30 to raise money. Thank you very much to the lot of you that made donations via Plum District! Big Brothers Big Sisters was quite pleased with the results, and we are happy to announce that Plum District will be matching your donations dollar for dollar!
December 29th, 2010 | 10:52 AM
Thank you to all of you who were able to purchase our great deal today!
Sorry to those of you that missed it, but it is now SOLD OUT.
December 16th, 2010 | 5:00 PM
As Megan talked about in her post back in October, "For Moms, By Moms," we are recruiting Moms to build Plum District in their local communities. Our District Representatives are Moms who are sourcing deals in their local communities and bringing them to Moms like you.
To showcase the hard work these Moms (and a few Dads!) are doing for Plum District–and to make our deals more personal for you–we have launched a new feature that lets you see who sourced the deal, read about why they brought the deal to Plum District, and read and get to know them.
For example, our deal today for Love Reusable Bags was brought to us by Jillian G., one of our District Reps for Orange County. Jillian is featured in the left side of the page, and her story about why she brought this deal is found at the end of the deal page.
Likewise, Margaret G., our Regional Sales Manager for San Francisco and Marin is featured on today's Round Pond Wine Tasting and Appetizer deal. After having a wonderful tasting experience at Round Pond, Margaret tells you why she brought this to you.
Of course, you are interested in becoming one of these District Reps for your local District, let us know!
December 11th, 2010 | 7:19 AM
Great news! Starting Monday (Dec 13) and running through December 24, 2010 you can get an additional 10% your first purchase with Plum District! Just enter the promotion code plumholiday at checkout. Easy.
This promotion only applies to first time buyers. However, for you frequent shoppers on Plum District, be sure to tell all of your friends. If you use our Refer a Friend program to tell your friends, you will earn $10 Plum Dollars when they make their first purchase. Now, that's a Plum Deal.