Plum District
This user hasn't shared any biographical information
What does a "deal" mean to you?
July 14th, 2011 | 2:42 PM
What does a "deal" mean to you?  Something special? Hard to find? An accomplishment? The dictionary defines 'deal' as, "a usually large or indefinite quantity or degree."  That certainly rings true. For the average mom, I think it means financial empowerment. When we think smart with our buying power and make the effort to get the most for our money, we are embracing one of the best things we can do for our families: be economically responsible.
Deals are hot right now, especially in the current economic climate, and Plum District is meeting a need that moms are really clamoring for. Whether we work full-time, part-time, or as a stay-at-home mom, we so often take the reins when it comes to purchasing saavy on behalf of our kids… and ourselves. Whether we seek clothes or ice cream, school supplies or a Saturday matinee, maximizing the dollar is where it's at. Not to mention, those little "me" splurges that moms certainly need every once in a while. Manicure anyone?  With all those demands on our day-to-day budgets why "waste" money when you don't have to?
Moms can and do take charge to save money on all kinds of products and services for their kids and themselves.  They are empowered, thanks to Plum District – a benefit to kids and families any way you look at it.
"You CAN have it all. You just can't have it all at once."
July 14th, 2011 | 1:29 PM
Many people dream of a "work from home job" – and not one of those seems-too-good-to-be-true scams.  I know I always did.
However, that dream changes and shifts, especially when you add kids into the mix.  It's not always as wonderful or easy as it is thought to be.  I always pictured working from home to be something along the lines of being able to check my emails first thing in the morning over a cup of coffee while attending important meetings from my couch throughout the day.
Oh good – you're laughing, too!
Then, my idea of what working from home shifted again after I found Plum District – all thanks to my husband, actually!  While I'm not conference-calling from the couch – I am working and maintaining a balanced life with two toddlers.  I really never thought it would be possible for me to able to work for a company like this with all I have going on and still able to stay home for my kids.
I'll be honest.  It's not easy.  It takes a lot of P's: prioritizing, pre-planning, then more planning, preparation and patience.
It is possible, though.  I do a lot of my work off-peak hours – after the kids go to sleep, on weekends and during nap times.  If I plan it right, I can get some things accomplished during the day, too.  I sneak in emails and phone calls when I can – in between doing the household work, taking care of my kids and going out and about for errands and such.
Of course, I have those days where nothing seems to get done.  That's when I table what I can for later, or another day and focus on what needs to be taken care of.  It can be frustrating, but I know it all gets done eventually.
However, my family has always been and will always be my first priority.  It had to be a very special opportunity for me to decide to take time away from my kids and family and I'm proud to be with Plum District.
Plum District is truly an amazing group of people that I have the pleasure to work with and for – both here in Connecticut and all over the U.S.  I love what they represent and the opportunities they provide for the businesses and companies they promote in addition to the opportunities they provide to their own employees.
So, if you're considering a career change or are looking for some inspiration, then I'd like to share with you one of my favorite quotes by Oprah Winfrey.  She once said "You CAN have it all. You just can't have it all at once."  I feel right now I certainly have the best opportunity to have a lot – if not "all."  I feel even luckier to have found an organization that not only recognizes that, but actually supports and encourages it.
March 21st, 2011 | 9:33 AM
Aileen Lee, Partner at Kleiner Perkins Caufield & Byers and Plum District Board Member, wrote an outstanding guest post this past weekend on TechCrunch entitled "Why Women Rule the Internet." Aileen focuses on investing in early stage consumer Internet companies (like Plum District), and in this post she shares a wealth of insight and knowledge about rising trends on the Internet. Most importantly, she discusses why "girl power" is fueling the unprecedented growth of today's social Web.
Read her excellent post and get to know another member of Plum District.
March 10th, 2011 | 4:31 PM
It still looks like some of you are experiencing problems with referral emails not being delivered to your friends. While we are continuing to work with Internet Service Providers to get these emails delivered, we have a workaround for you in the meantime.
We have discontinued sending referral emails from our mail server (which in some cases is being blocked). Instead, we have enabled a way for you to put your unique referral links directly into your own emails, which should not be blocked.
Here's what to do:
1. Return to the Target deal page:
http://www.plumdistrict.com/moms/discount/everywhere/home-and-garden-deals/target-plum-reward-20-target-giftcard-mar2011-everywhere
2. Click "Get It" and re-confirm your mailing address in Step 1.
3. This time on Step 2, your unique referral link appears in the box labeled "For Copying and Pasting." Copy your unique referral URL (and the explanatory text, if you want).
4. Create an email in your personal email service/program and paste the URL (and the other text if you copied that too). Now you can invite your friends directly through your unique link without having to rely on our mail servers to get stuff delivered.
March 10th, 2011 | 9:54 AM
Due to the overwhelming response to our Target Plum Reward, we are experience some intermittent site issues as we bring new servers online to handle the volume. Please bear with us, and we apologize for any inconvenience that this may be causing you. We'll be sailing smoothly again in a few minutes.
February 7th, 2011 | 11:39 AM
Welcome the first Plum babies!  Ben (7lbs 1oz) and Audrey (6lbs 4oz) were born Monday, January 24, 2011 to Carrie Barley from our Chicago sales team. Carrie reports that she and babies are doing well, and that she's loving every minute of it! Congratulations, Carrie!
January 13th, 2011 | 10:27 AM
In honor of Martin Luther King Day, first-time buyers can get an additional 25% off your purchase now through January 17. Just enter promo code plumMLK at checkout! Tell all of your friends!
January 6th, 2011 | 7:00 AM
Plum District is thrilled to be named an Editor's Best for 2010 by Cool Mom Picks. On December 30, Cool Mom Picks announced their "coolest services, sanity savers, and helpful websites for parents." Here's what they had to say about Plum District:
"I anxiously await the daily deals from Plum District, a handy new site aimed at moms like me that makes saving money super easy. So far the deals have been relevant and appealing, including plenty of the small businesses you've seen on Cool Mom Picks." -Kristen
Thank you to Cool Mom Picks!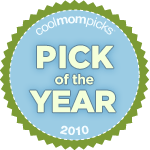 January 5th, 2011 | 1:29 PM
As you probably know, we ran a "deal" with Big Brothers Big Sisters from December 25 thru December 30 to raise money. Thank you very much to the lot of you that made donations via Plum District! Big Brothers Big Sisters was quite pleased with the results, and we are happy to announce that Plum District will be matching your donations dollar for dollar!
December 29th, 2010 | 10:52 AM
Thank you to all of you who were able to purchase our great deal today!
Sorry to those of you that missed it, but it is now SOLD OUT.